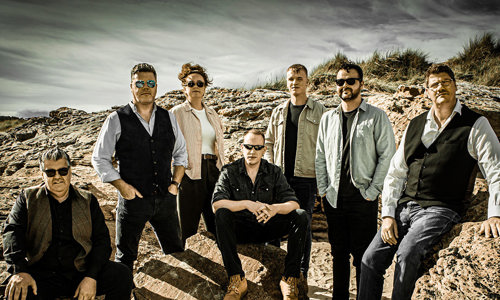 Dates
Friday 12 July 2024
Castle Concerts are delighted to announce that Scotland's celebrated Celtic rock band Skipinnish will play at the castle to celebrate their 25th anniversary, on Friday 12 July 2024.
General information
The concerts are not run by Historic Environment Scotland. For all concert enquiries, email Castle Concerts
The on-site box office is at The Hub, Castlehill, Edinburgh, EH1 2NG. It is open from 4pm on event days.
Timings (subject to change, except end time): 
Gates open - 6.45pm
Ends - 10.30pm
Advice for concert attendees
Edinburgh Castle esplanade is an outdoor venue and concerts will go ahead even in poor weather (unless it is unsafe).
Be sure to wear warm, waterproof clothing (as required) and sturdy footwear. The esplanade is reached via a steep slope and concert seating is tiered.
Sitting high in the grandstands is not recommended if you have vertigo, breathing difficulties or a heart complaint.
Edinburgh Castle is a no smoking venue. Alcohol and bottled drinks over 500ml cannot be brought into the arena.
Children under 16 must be accompanied by an adult.
Accessible tickets
Designated wheelchair viewing areas are located at the base of blocks 2–5 and 12–15. Blocks 12–15 also have areas for attendees with ambulant disabilities.
Disabled and ambulant disabled tickets are limited, so be sure to book early. Wheelchair users receive one free ticket for a companion to help with entering and exiting the arena. Visit www.ticketmaster.co.uk.
We try to let all members of a party sit/stand together, but we cannot always guarantee that this will be possible.
The only access to the venue is via Castlehill, a steep, cobbled street. In most cases, holders of disabled tickets get priority entry to the venue. Just show your tickets at the first ticket check by The Hub no later than 6.30pm.
Holders of disabled tickets can be dropped off at the venue entrance. You should arrive at The Hub by 6.15pm and all vehicles must leave the Esplanade by 6.30pm.
There are accessible toilets on the Esplanade.