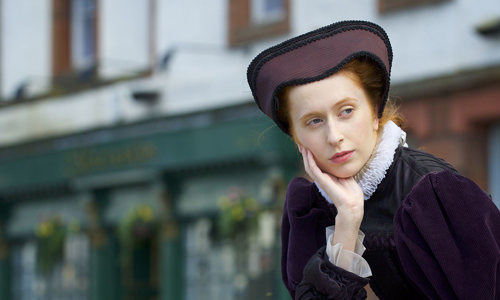 Discover the characters which make up Edinburgh Castle's history.
St Margaret

d. 1093

The oldest surviving building in Edinburgh is the castle's St Margaret's chapel – dedicated to Scotland's saintly queen.

Margaret was an English princess. Born and raised in exile in Hungary, she returned to England aged about 10. Forced to flee after the Norman invasion of 1066, she took refuge at the Scottish court. She and the king, Malcolm III (known as Canmore), were married in 1069 or 1070. In November 1093, Margaret fell gravely ill at Edinburgh Castle when her husband was away fighting the English in Northumberland. Margaret died soon after hearing the news that he had been killed, along with their eldest son. Her son, David I, built St Margaret's chapel in her honour. Known for her many acts of piety, she was made a saint in 1249.

David II

1324-1371

King David II returned to Scotland in 1357 following 11 years as an English hostage.

Upon his return he took bold steps to establish his kingship. He invested large sums to restore the royal castle at Edinburgh, culminating with the lofty David's Tower. At over 30m tall, the tower would have dominated the skyline. The tower was one of the earliest of its kind in Scotland, inspired by examples David had seen while in exile in England and France. It formed the heart of the castle, providing high status accommodation for the monarch, stores in the lower floors, and battlements and a fighting platform at the top. David's Tower was brought tumbling down during a heavy bombardment of the Lang Siege in 1573. The ruined stump of the tower is still visible today, buried and enclosed within the Half Moon Battery.

James IV and Margaret Tudor

1473 – 1513 | 1489 – 1541

James IV had a key role to play in shaping Edinburgh Castle.

He completed work begun by his father to create the main courtyard and royal palace, around what is now Crown Square. The magnificent Great Hall was completed in 1512, built as a ceremonial centre for banquets, entertainment and court affairs. Inside, beautifully carved stone corbels support the original hammer-beam roof. Each stone depicts images and symbols that represent the monarchy and the marriage of James to his English wife, Margaret Tudor. The carvings include Scottish thistles and English roses, James' royal cipher, a Venus figure with Tudor roses either side, and cherubs symbolising love. Their marriage was intended to ensure perpetual peace between the two nations. Sadly James IV died fighting the English at the Battle of Flodden in 1513.

Image © Royal Collection Trust / © Her Majesty Queen Elizabeth II 2019

Mary of Guise

1515 – 1560

Mary of Guise ruled as Queen Regent in Scotland from 1554 until her death in 1560, ruling on behalf of her daughter, Mary Queen of Scots.

She was a central political figure and an intelligent and astute leader during a period of great political and religious turmoil. In 1560 Mary of Guise fell ill at Edinburgh Castle, while the castle was under threat of siege and English forces held much of Edinburgh and Leith. She died on 11th June 1560 but the political situation was so volatile that her body lay in a coffin in St Margaret's Chapel for many months before being moved to France in March 1561.

Image copyright: Corneille de Lyon, Mary of Guise, 1515 - 1560. Queen of James V, National Galleries of Scotland

Mary Queen of Scots

1542-87

Mary was born at Linlithgow, and famously executed at Fotheringhay, less than 45 years later

Edinburgh Castle witnessed a key episode of her life, in June 1566, when she gave birth to her son, James. The castle was less comfortable but more secure than her usual chambers at Holyrood, where her secretary Rizzio had recently been assassinated by armed intruders. It was a difficult birth – and heralded two years of turmoil. In February 1567, James's father Darnley was assassinated. In July 1567, Mary was deposed and the infant James became king. By May 1568, Mary was a prisoner in England, never to return.

James VI

1566-1625

The only monarch born at Edinburgh Castle, James was the son of Mary Queen of Scots and Henry, Lord Darnley.

Oliver Cromwell

1599-1658

Born into the 'middle gentry', Cromwell was a fervent Protestant, who emerged as a gifted anti-royalist soldier and politician during the 1640s.

He was one of 59 men who signed the death warrant of Charles I; then led the invasion of Ireland, where he persecuted Catholics. In 1650, after the Scots crowned Charles II, Cromwell invaded. He occupied Edinburgh Castle in time for Christmas, which he refused to celebrate. He had royal decorative schemes defaced and installed a garrison, converting the Great Hall into military accommodation. He soon controlled the whole of Scotland.

Image © National Portrait Gallery, London

Sir Walter Scott

1771-1832

Poet, novelist, and antiquarian, Sir Walter Scott stimulated the public interest in Scotland's history, and the wish to preserve its heritage. Some of his greatest triumphs took place at Edinburgh Castle.

In 1818, Scott was granted royal approval to open up the Crown Room, where the Honours of Scotland (Scotland's Crown Jewels) had lain for 111 years. The sealed oak and iron doors were pushed open and the lid of the wooden chest lifted to reveal the Honours within. The event caught the public imagination, and along with the visit of George IV in 1822 (spectacularly choreographed by Scott), was a key factor in making the castle the tourist attraction it is today.

Image © Sir William Allan, Sir Walter Scott, 1771 - 1832. Novelist and poet, National Galleries of Scotland

Hippolyte Blanc

1844-1917

Hippolyte (pronounced Ee-pol-eet) Blanc was a respected Edinburgh architect, who conducted building works at the castle in the mid-1800s – despite a tempestuous relationship with his clients.

By the 1880s, army life had taken its toll on the castle. Restoration schemes were proposed to evoke the royal stronghold of old. Blanc was brought on board by the project funder – William Nelson, a publisher and benefactor – to remodel the Great Hall and build the Argyle Tower. When Nelson died in September 1887, Blanc had to deal directly with the army. Architect and client immediately fell out. The army accused Blanc of failing to inform them of progress, while Blanc felt that the army didn't share his vision. When they wanted to turn the Great Hall into an armoury, Blanc declared he had restored it as a medieval hall, and refused to hand over the keys.

Image reproduced by permission of the Trustees of the National Library of Scotland.