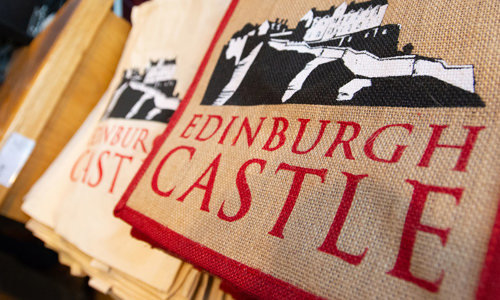 The perfect memento for you. Gifts to cherish or just to bring a little cheer. Find a different range of inspired gifts in each of our three gift shops.
Featured products
Our picks from the Historic Scotland online shop. Every purchase supports our work to protect Scotland's historic places.
Shop now
Portcullis Shop
Our largest gift shop is next to the ticket office. But you can pop in anytime without paying for entry to the castle. The huge range of tempting souvenirs includes exclusive Edinburgh Castle merchandise and Scottish crafts.

Jewellery in modern and traditional Scottish designs has been beautifully made to give a lifetime of enjoyment. Clan gifts such as scarves, ties and scrolls can make the ideal present for family. There are plenty of options to delight younger members of the clan too.
Opening times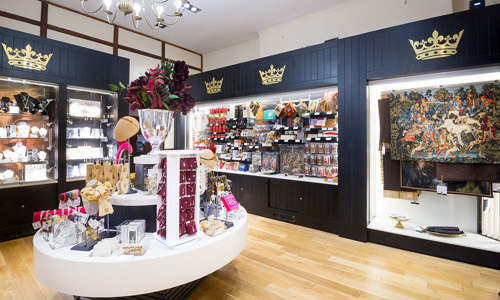 Crown Gift Shop
This Crown Square shop carries a hand-picked selection of extra-special items. Among the gifts fit for royalty are exclusive china and jewellery from leading Scottish designers. Look for pieces inspired by the Honours of Scotland and the Portcullis Gate.

Many of the exquisite designs from our popular tapestries collection are available to buy at the Crown Gift Shop. Little knights, princesses and even unicorns are well catered for too – with figures, toys and dress-up sets just made for big adventures.
Opening times
Whisky and Finest Food Shop
Seek out drams and delicacies in this shop next to St Margaret's Chapel. Its huge range of whiskies includes our own Edinburgh Castle 10-year-old single malt. Browse the rare malt cabinet or ask about our free tasting sessions.

Other tempting tipples include the award-winning Berry Good vodkas and gins made in Caithness. Artisan chocolate and traditional shortbread, tablet, oatcakes and cakes are some of the popular sweet and savoury Scottish treats to take home.
Opening times