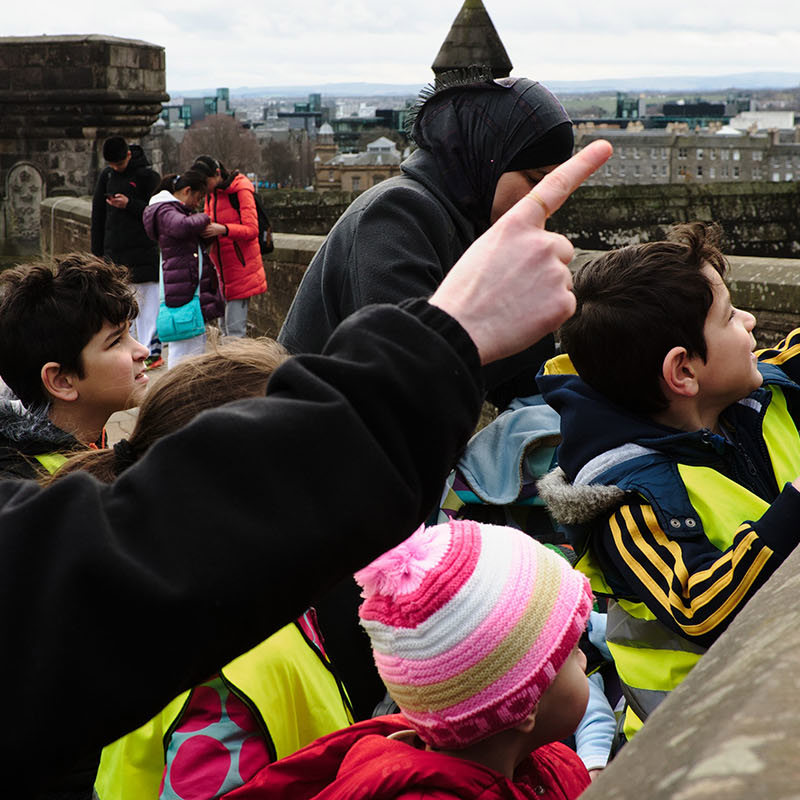 Family Day Out
See where kings and queens held their parties, and get up close to Scotland's Crown jewels. Discover who (or what) Mons Meg is, and learn about the four-legged friends of some soldiers. Even pirates feature in Edinburgh Castle's history – visit the vaults where they were locked up.

Arrive before 1pm to see (and hear!) an Edinburgh spectacle. The One o'Clock Gun is fired daily except on Sundays, Good Friday and Christmas Day.

Fun events for all the family bring the castle's colourful past to life. Before you visit, check out what's on at the castle.
3 hours
Children's Quiz

Go on a fact-finding mission. Follow clues around the castle and pick up the answers to our quiz questions as you go. Some are hidden in the strangest places. Find all of them and you'll be really clued up on Edinburgh Castle.

Edinburgh Castle Explorer Quiz

Lang Stair

Can you count all of the steps in the Lang Stair? Most medieval visitors had to climb them every day to reach the castle. It's a bit of a trek to the top step, so you may prefer to take a gentler route that winds around the cobbled hill.

Dog Cemetery

Even tough soldiers love their pets. This little burial ground is where the dogs kept by army officers or regiments were laid to rest. One of the dogs, Dobbler, would travel as far as China and South Africa with his battalion.

Mons Meg

Meet Mons Meg, a huge cannon named after the Belgian town where she was made. This giant gun could fire a stone ball up to 3.2km (2 miles). But you could probably outrun her – even a team of oxen couldn't haul Mons Meg more than 5km (3 miles) a day.

Honours of Scotland

See Scotland's richest treasures. Made of gold and silver and dazzling with precious gems, the Honours are the oldest Crown jewels in the British Isles. Can you spy a silver wand? Why it was locked away with the priceless Crown, Sceptre and Sword of State is a mystery.

Prisons of War Exhibition

Think how grim life was for the many prisoners of war locked up in the vaults below the Great Hall. Most were sailors and some were pirates from the Caribbean, captured with their loot. Not all of the escapes planned were foiled – 48 inmates got away one time.

One o'clock Gun

We fire the One o'clock Gun nearly every day, but it still surprises plenty of visitors to the city and even some locals. Come and see us get the gun ready for this ritual – can you guess what time to turn up?

Continue the adventure

Pop into the Portcullis Shop at the castle entrance. You can find brilliant souvenirs of a terrific day out – with a great choice at pocket-money prices. There's also a whole section devoted to keeping the fun going back at home. Find dress-up sets, figures and toys to kit out little ones for big adventures.