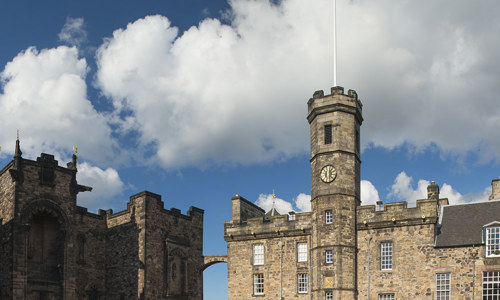 The Royal Palace
The Royal Apartments are open (The Birthing Room remains closed)
Kings and queens lived amidst the comfort and splendour of the Royal Palace. Crown Square took shape over time, with King James IV completing the quadrangle in the early 1500s. Some key moments in Scotland's history took place within the palace walls.
Queen Mary of Guise died in the palace in 1560. She was the last defender of the Auld Alliance with France and champion of the Catholic faith against the Protestant Reformation.
Her daughter, Mary Queen of Scots, gave birth to James VI here in 1566. The labour was difficult and a companion of the queen is said to have tried using magic to transfer the birth pangs to a servant.
James VI had a remarkable life. Crowned king of Scotland at just 13 months old, he became the first monarch of both Scotland and England in 1603. His birth chamber is a highlight for many castle visitors today. 
King Charles I was the last monarch to stay at the palace. He slept here on 17 June 1633, the night before his Scottish coronation.
The Royal Palace is located in Crown Square.
The Royal Palace
0:37