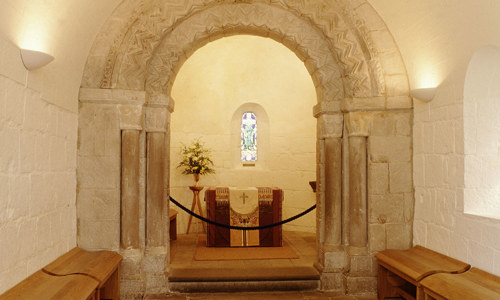 St Margaret's Chapel
Scotland's royal family once knelt to worship in this serene private chapel. Today, the doors of Edinburgh's oldest building are open to all castle visitors, and the chapel continues to host weddings and christenings.
King David I built the chapel around 1130 and named it for his mother. Queen Margaret, who was said to have performed many acts of charity, was canonised by Pope Innocent IV in 1250.
In the 1500s, the chapel was used as a gunpowder store – it was later given bomb-proof vaulting. Its origins were forgotten and only rediscovered by the antiquary Sir Daniel Wilson in 1845.
The ornate arches are original, while other features such as the stained glass windows are more recent. Fresh flowers are always on display, thanks to St Margaret's Chapel Guild – all its members share the saint's name and live in Scotland.
Passing through Foog's Gate, St. Margaret's Chapel is located on the left, just beyond the Whisky and Finest Food Shop.