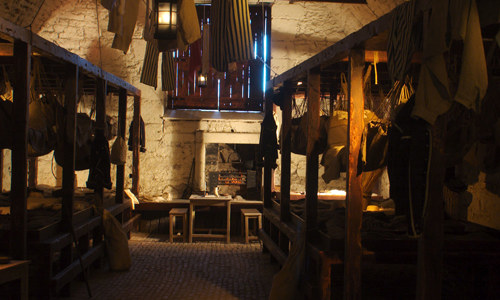 Prisons of War
Pirates and prisoners of war were once held in the vaults below Crown Square. In the 1700s and 1800s hundreds of prisoners of war were held in these dark, cramped spaces. Today, a recreation of the vaults as they would have looked around 1800 offers a glimpse into the grim way of life these prisoners would have had to endure.
The first prisoners were French privateers caught in 1758, soon after the Seven Years' War began. The youngest held was a five-year-old drummer boy captured at the Battle of Trafalgar in 1805.
Prisoners of war came from France, America, Spain, the Netherlands, Ireland, Italy, Denmark and Poland. Most were sailors, many of them Americans fighting in the War of Independence. An early depiction of the 'Stars and Stripes' flag is scratched into a door. Many tried to escape. In 1811, 49 prisoners escaped through a hole in the defences that is still visible today. All but one made it safely down Castle Rock, but it was not long before they were recaptured.
Caribbean pirates were held in the vaults before they became a prison of war. In 1720, 21 members of Black Bart's crew were captured off Argyll, on Scotland's south-west coast. They had come to Scotland to retire. Instead, most were hanged below the high water mark off Leith.
The entrance to the Prisons of War is located within Dury's Battery.
Prisons of War
0:36