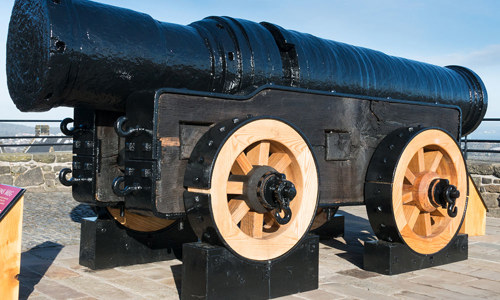 Mons Meg
Mons Meg was once seen as cutting edge military technology. Given to King James II in 1457, the six-tonne siege gun could fire a 150kg gunstone for up to 3.2km (2 miles). She is named after the Belgian town where she was made.
In 1460, James II had Mons Meg hauled 80km (50 miles) to the siege of Roxburgh Castle. This was no small task: even a team of oxen couldn't move her more than 5km (3 miles) a day. But the unlucky king was killed there when another of his cannons exploded.
King James IV put Mons Meg back in action, first to attack Dumbarton Castle and then Norham Castle. She ended her fighting days in King James V's navy, retiring around 1550.
When Mary Queen of Scots married in 1558, Mons Meg fired a gunstone over the city in celebration: it landed in what is now the Royal Botanic Garden. Her barrel finally burst in 1681.
After 75 years in England, Mons Meg made a glorious return to the castle in 1829. Cavalry and infantry escorted her from Leith Docks to Castle Rock.
Mons Meg sits outside St Margaret's Chapel, just beyond the Whisky and Finest Food Shop.