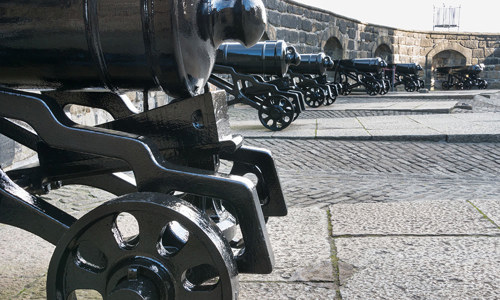 Half Moon Battery
Once the Half Moon Battery let cannons rain down on enemies on the castle approaches. Now it gives the castle its unique profile and is a wonderful place to stand and view the city and far beyond.
The Seven Sisters – bronze guns cast in the castle for James IV in about 1500 – originally defended the Half Moon Battery. Today's cannons are 18-pounders made in 1810 during the Napoleonic Wars.
Hidden inside is a secret: the battery was built on and around the ruins of the huge medieval David's Tower. Begun in 1367–68 by King David II, the tower came crashing down during the Lang Siege of 1571–73.
The Half Moon Battery is on the eastern side of the castle, overlooking the main entrance.