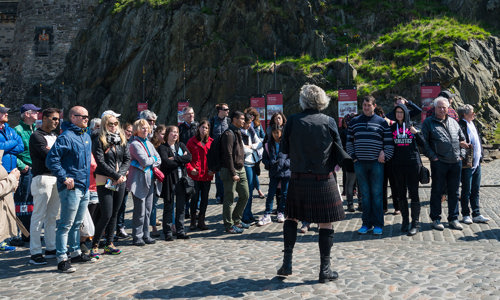 Travel Trade & Group Visits
Bring your group to enjoy the perfect day out and experience the Defender of the Nation's 3,000-year history! We have taken all the stress out of planning your trip and have provided detailed information on group bookings.
If you are looking to bring a one-off group to Edinburgh Castle we advise that you purchase tickets here to receive the best price and guaranteed entry at the time slot of your choice.
If your business plans to send groups to Edinburgh Castle on a regular basis and you don't have an account with us, please contact our dedicated Admissions & Sales Team to discuss your options.
If you have an account with us, you can book your passes and tickets for Edinburgh Castle through our online B2B booking portal, Group Sales.
Some great benefits of Group Sales include:
Purchase tickets for individual sites at trade rates, Explorer Passes or Scottish Heritage Passes at trade rates
Group & FIT bookings
24/7 booking environment with instant confirmation via email
Guaranteed entry to sites with a valid ticket
Free coach parking (specific sites only)
One free tour leader per group booking
Pay by monthly invoice
Multiple delivery methods to choose from
Ability to amend/cancel bookings free of charge*
Free familiarisation trips*
* Terms and conditions apply
If you are a business and would like to apply for a Group Sales account, please email us for more information. Please note a minimum spend per annum will apply. Account application requests are reviewed between September and February each year.
Already registered? Log in now
If you are bringing a group to Edinburgh Castle we advise that you please read our important guiding information to ensure the enjoyment of all visitors.
To help you make the most of your experience, we have created suggested itineraries to make sure your group don't miss any of the highlights. Whether you have 1 hour or 3, there are timed plans to create an unforgettable visit!