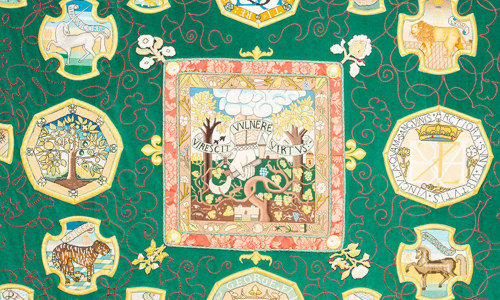 The Queen's Embroideries
Exquisite replicas of a set of embroideries created by Mary Queen of Scots during her exile in England are displayed in the ante-chamber of the Royal Apartments. There are 37 needlework pictures, each one with a story to tell.
The original embroideries were sewn after Mary's enemies forced her to abdicate her throne and flee Scotland. Even as she worked on the pictures, her supporters were besieged in Edinburgh Castle in the Lang Siege. Their surrender marked the effective end of Mary's hopes of regaining the Scottish crown.
Download The Queen's Embroideries leaflet
Stitches in time
Mary sewed the embroideries while she was under house arrest. The work was done alongside the noblewoman Bess of Hardwick, the wife of the queen's jailer.
The two women struck up an unlikely friendship before Mary was moved to new accommodation in 1585. Her cousin, the English Queen Elizabeth, ordered her execution two years later.
An unbroken thread
The replica embroideries were made by the School of Ancient Crafts, 33 volunteers who spent more than 7,300 hours working on the project between 2014-17, using only authentic materials, tools and techniques. Read our blog post about the embroideries